Productinformation Mexican
Johnny Dutch Goes Mexican

18 vegan balls for 4 persons – fry 3-5 minutes with herb paste
108 ml fresh herb paste (basic sauce for your veggies)
How it works? Easy as that! Just 3 steps!
Prepare your choice of beans, rice, potatoes, quinoa or else.
Prepare your veggies of choice and add last minute with a splash of water & our fresh herb paste to your taste.
Heat up butter or oil in a saucepan, add a spoon of the Johnny Dutch herb paste and fry our protein-packed veggie balls for 3-5 minutes at medium heat. Put them aside.
Or … have a look at our authentic, globally, inspired recipes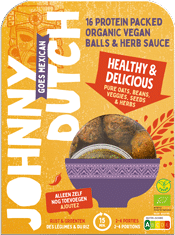 Content and weight
Balls: 320 g
Fresh herb paste: 80 g
Ingredients
| Mexican balls | Mexican herb paste |
| --- | --- |
| INGREDIENTS: Oat base (water, organic oats 9%), black beans (19%), garden peas (10%), rice (10%), fried onion (9%), bell pepper red, mango, Mexican spice mix, corn, coriander, tomato paste, sunflower oil, garlic, red chili, vegetable fiber, vinegar, salt. | INGREDIENTS: garlic, sunflower oil, tomato puree, lemon juice, red chili, fried onion, coriander, dried vegetables (mushroom, onion, tomato) Mexican spice mix, sugar, salt, rice flour, oregano. |
Allergy information
Gluten-free, soy free, dairy-free,
nut free.
Nutritional Values
| UK - MEXICAANS | Balls | Spice paste | Spice paste |
| --- | --- | --- | --- |
| | per 100 g | per 100 g | Portion - 1 person - 15 g |
| Energy | 1144 kJ / 275 kcal | 856 kJ/ 203 kcal | 128kJ/30 kcal |
| Fat | 12.2 g | 16 g | 2.4 g |
| Saturated fatty acids | 1.3 g | 1.3 g | 0.2 g |
| Carbohydrates | 26.6 g | 11.8 g | 1.8 g |
| of which sugar | 6.25 g | 8.8 g | 1.3 g |
| Fibre | 8.5 g | 2.5 g | 0.4 g |
| Protein | 9.2 g | 2.8 g | 0.4 g |
| Salt | 0.78 g | 0.95 g | 0.14 g |